Stan Agar
| Associate Success Stories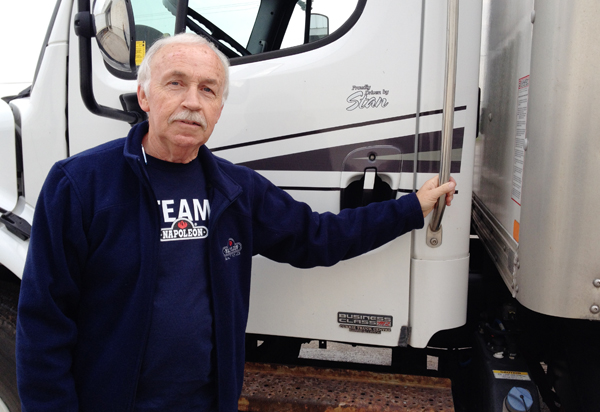 Stan was first hired on as a truck driver in 1985 when the company was only nine years old, where he assisted with the shipping before heading out on the road. The main focus of the manufacturing was oak railings and then over the years Wolf Steel Limited (manufacturer of Napoleon products) began turning their focus to wood stoves, and Stan was there to assist the company every step of the way. During his time here he has proven to the company and more importantly the retail dealers that he will be there to make deliveries effectively.
"When I first started I used a propane powered cube van to make deliveries. I would fill the truck with propane from the propane tank at the side of the building before leaving. I would then have to find a propane refill station using a cardboard fold out map of the locations in Toronto, where propane was available because I wouldn't make it back without filling up." Stan has gone through eight trucks and travelled over three million miles during his 27 years at Napoleon, and as the company grew so did the size of his trucks and orders.
Stan's position had many key responsibilities in order to make each day and the deliveries successful. "I would do my safety check every morning before leaving, and I would make sure all the dealers were receiving their products on time. I would bring back any product that needed to be returned to the plant." Wolf Steel Ltd. knew their products were in great hands when it came to Stan's integrity and years of experience in the field.
Not only was Stan terrific at his position he assisted others employees that joined the team teaching them new ways to become more efficient. "I would help teach others how to properly prepare your run for the day, making sure all products came off the truck in the right order."
Stan loved every aspect of the job; dealing with the public and customers was something he excelled at, he went out of his way to answer any questions the dealers would have about our products. He even made some friends on his travels, who would know what time he would arrive and would have a coffee waiting for him. The dealers looked forward to seeing Stan and appreciate his reliable schedule when making deliveries.
Stan joined the Napoleon team because he enjoyed the solitude of being on the road, and it was a first in truck driving for Stan; sure enough he loved it. Wolf Steel Ltd. always gave him the option during the winter season if he wanted to stay off the road due to weather conditions, although he rarely would. He has stayed loyal to the company up until his retirement in November 2013. As the time has gone on he overcame obstacles by using his experience from over the years, which also allowed him to teach others on how to be a promising shipping and delivery team.
His timeless commitment is something Wolf Steel Ltd. is extremely appreciative of and admires in each of their employees. We would like to thank Stan for his incredible years of effort and dedication to the company; you were truly a rewarding employee! We have enjoyed being able to grow as a company over the years with Stan, and will continue to grow with the initiative and encouragement Wolf Steel Ltd. instills in all of their employees.